Eagles hangar - Furnitures
Par olcabour le vendredi, 13 janvier 2012, 21:44 - Hangar - Lien permanent
To fill the hangar, I will of course seriously dip into the spares box. However, I will have to find stairs, ladders, service platforms. In surfing on the web, and with the help of Alexandre Dumas (http://scihighmodels.com/) , I came to look for references in the HO scale (or 1/87, an electric trains scale). This is a scale quite close to 1/72 so it will be perfect. Eagles Airfix / Product Enterprises are also certainly closer to the HO than the 1/72 announced (a few years ago, I was even going for a 1/100).
So I ordered a few elements (platforms from Plastruct and Cornerstone brands) to make some tests. http://www.hobbylinc.com/htm/wrr/wrr3104.htm http://www.hobbylinc.com/htm/pls/pls1010.htm
Cornerstone: it is a loading platform of oil or petroleum. It is injected into a kit, the installation is relatively simple. All parts are not useful for my needs.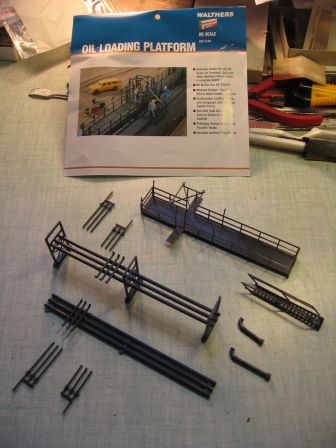 Plastruct: I was expecting a kit, and in fact, it is a scratch to build ... So I was really surprised. Rather than faithfully follow the instructions (low high plateform for loading wagons), I attacked directly the building of a platform for maintenance of a motor eagle therefore higher.
Thanks to Plastruct, I knew exactly identify the elements I needed to make more than a dozen platforms.
A fairly consistent order of rails and stairs only quickly followed (on a US site because Plastruct is no longer distributed in France). All other sections needed (I, U, L, H) are easily found here in Paris.