Battlestar Galactica - Half studio scale - Painting
Par olcabour le mardi, 25 novembre 2014, 21:43 - Battlestar Galactica 37 - Lien permanent
First a fair coat of primer (Tamyia spray can)
Then matt black spray (car paint spray can)
I had to correct a few drops (with sanding sponge)
The spray can can not go everywhere, I finish corners with airbrush
A right gray was difficult to find and to apply as I am not used to paint models of this size.

First test with sky Grey XF-19 aero: rthe esult too white and not enough uniform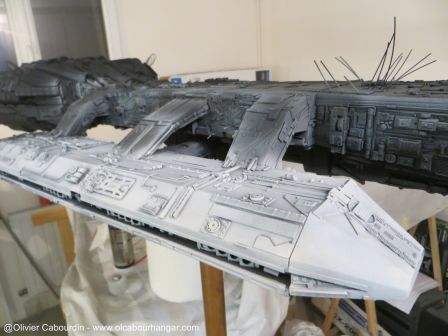 So after a new coat of black, I changed color (I do not remember which one). Although it looked nice on the pictures, it was this time too dark.
So I change technique, I get back to the tamiya gray primer, and I kept it as base coloer as I liked.
For the red stripes, I first applied white, then a standard red and finally dark red (it is not an X-Wing
)
The supplied decals brake down during application. So I made new ones by testing different font sizes.