Battlestar Galactica - Half studio scale - Painting sheds, viper and shuttles and lighting
Par olcabour le jeudi, 30 octobre 2014, 22:52 - Battlestar Galactica 37 - Lien permanent
Painting of dozens of viper and shuttles : The orange stripes, cockpits and engines are hand-made.
I'm a Viper maniac ! :D
(and no, I don't need a therapy!)
To paint the hangar, I played with different shades of gray: standards, greenish, beige...
The workshops are covered with white to better diffuse the ceiling red lights.
A light black wash is done mainly to highlight the workshops greeblies.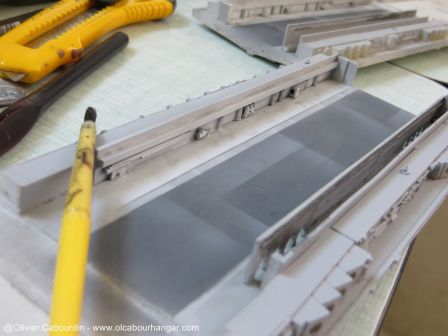 Added clear red plate behind the doors of the launch tubes of viper
As my hangars can not go the full length because of the side supports (metal bar), I extend it with a decal.
For this, I slightly modified the scans of the original design (removing the large Vipers, and color adjustment)
Placing the Viper and shuttles (with white glue)

- Right hangar
- Left hangar
Finishing the lighting of the sheds. Only warm white LED will be used. Red environments are done with transparent plastic sheets covered with Tamiya Clear Red.
There are 11 led by hangar.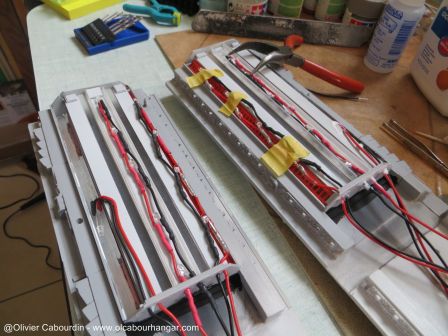 Upper ceiling
which is painted mat black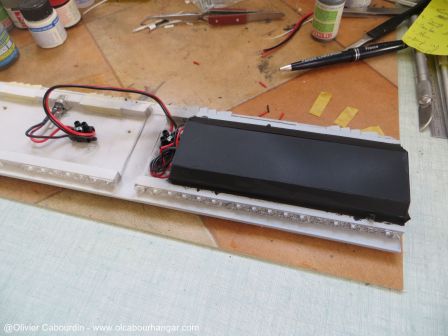 I'm pretty happy with the result

- Right hangar
- Left hangar