Cylon Tanker - Diorama
Par olcabour le lundi, 21 avril 2014, 11:39 - Cylon Tanker - Lien permanent
The diorama will depict a scene from the beginning of the pilot TV movie, when a patrol of Viper (Apollo and his brother) discovered the fleet of Cylon tanker and squadrons Cylon Raider hide in ambush behind a nebula, ready to attack the colonial fleet of Battlestars at the peace conference. This meeting will be a tragic outcome for Apollo's brother.

The dio is built on the same principle 2 wood boards and reinforcements. that will be covered with a plastic sheet, glued with double-sided tape.
The nebula will be made ??with kapok (the anoraks inner material), backlit with 2 cold white leds (thus slightly blue).
I intend to stand the kapok with fiber optic.
The electric socket location is drilled to insert the connector in strength.
With an circuit test, I realize that the kapok finally filters more the light than I thought.
As the dio was not ready, the lighting tests are done on a black chair.
In person, this is far less bright than on the picture (due to the sensitivity of the camera).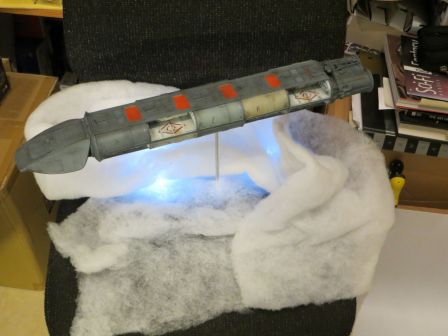 Therefore, I change the approach and replace LEDs with a LED spotlight.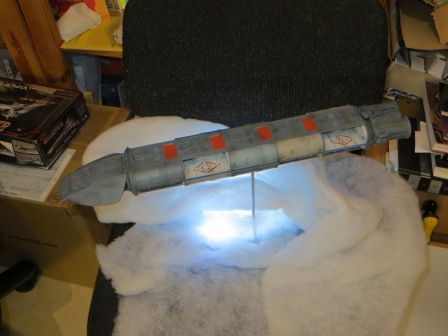 The wooden frame is hollowed in the center to allow the spotlight to be inserted from the back.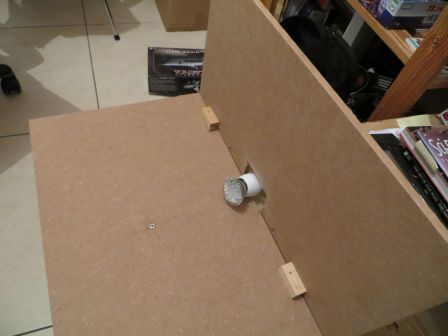 The plastic sheet is set in place with double-sided tape.
It is then spray-painted : black paint and primer
The stars are made with turquoise and white gouaches. This needs hard bristle brush on the edge of the jar, above the surface to cover.
The first brushing produce drops that create the stars, and progressively as one brush, there is less paint, and it ends in nebulae, until there is no more paint in the brush.