Moebius Viper mk7 - Painting base colors and hair lacquer technics
Par olcabour le jeudi, 20 mars 2014, 23:05 - Moebius Viper mk7 - Lien permanent
Painting typically starts with a coat of tamiya spray primer.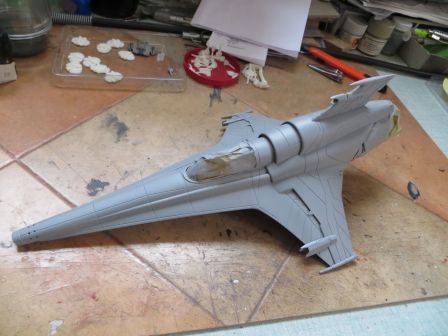 Followed by a black pre-shading of the panel lines.
On this build, I will tried for the first time the hair lacquer trick. Indeed, the blue paint is heavily peeling on the Apollo Viper.
The gray base coat is Sky Gray xf19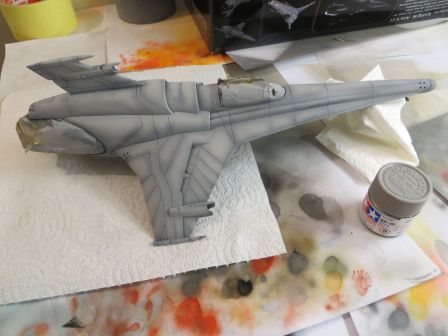 Followed by a very very thin coat of Alclad aluminum, just to give it a very slight metallic look.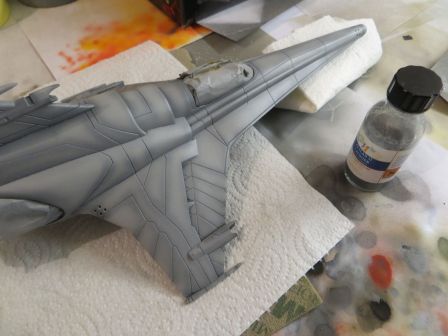 Everything is sealed with Klir/Future
Then a matte coat. Followed few hours later by 3 coats of a first price hair lacquer spray
The blue, a mixture of light blue, flat white and intermediate bleu (all from tamiya) did not satified me once applied.
So I replaced the intermediate blue with a tamiya flat blue, with a better result. I took benefit of this error to not applied uniformly the new blue mixture : Since it is darker, I applied it along the strucutres and panel lines, like a postshading.
I let it dry just the time to clean the airbrush.
I apply a some warm water, wait a few seconds and I rub with an strong hair paintbrush.
It does not come off as easily as I thought. In places, it is necessary to rub hard ( maybe it's because I did several coats of paint ? or not enough hair lacquer ?) .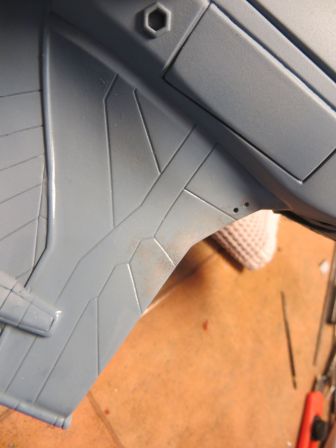 I tried to follow the best I could the 3D model, here's the result.
In places, the lacquer has created some halos, they fade a little wiping a brush with water (it certainly has spread it in fact... !).
I did not try to rub them away completely as they will had another weathered effect to this worn Viper.
I'll let it all dry for several days before applying a matt coat.