Cylon Raider NG - Out of the box
Par olcabour le samedi, 1 juin 2013, 21:35 - Cylon Raider NG - Lien permanent
After a fair dose of Space1999 (the Swift WIP is still pending), I needed to change of subject, with a little tour this time on Battlestar Galactica Cylon Raider from the reimagined serie.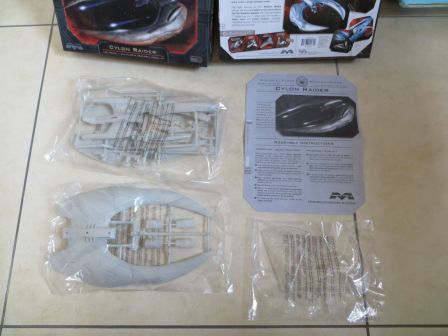 This is not really a design that I like, I much prefer the older version (which I look forward to its new incarnation from Moebius, significantly larger than its venerable Monogram cousin). So it will be a quick installation: no researches of accuracies, no lighting (no no, not even the red eye), just a few cosmetic improvements. I'm going to concentrate on painting.
This studio raider (virtual or 1/1 set) appears really rough on screen while the kit is rather smooth. So I can not mindlessly apply the Alclad, as it would give him a look of a Naboo skiff! I have not clear ideas, but maybe I will try the Alclad Stainless steel (which is duller than her friends) and metallic acrylic spots for a rough rendering.
In the meantime, we made a little tour of the property:
This is a kit with the big parts in the style of the years 70/80, far from japanese standards for example.
Without a close look (and I do not seek to do so) it seems pretty faithful to the model.
some part cuts are curiously positioned and generate lot's of work and filling...
Cylon emblem is embossed and not decals!! so I quickly acquired the replacement decals on Starshipmodeler