Improving details
Par olcabour le vendredi, 11 janvier 2013, 21:16 - Fine Molds Millennium Falcon 1-144 - Lien permanent
As the lighting is more complicated for me... I will start with the simplest part of the job, improving details :
After I asked myself if I would replace the pipes in the openinf by brass rod, I did only changed in two places where it was really noticable and aesthetics.
The mandibles are separated from the clamp, ("Scalpel, Doctor Ross")
The escape pods panel lines. Ideally, it should have been all filled and re-writing, but I played lazy here and only simulated the offsets by accentuating recessed engraving on one side or another (with more or less success finally! )
Laser impact, and this is not what is missing on this ship...
As well as on the escape pod, and cockpit access arm.
The inside of the clamp is detailed with plastic bits.
Some pictures of this aera on MR Falcon, with and without camera flash :
top
low
the mod :
top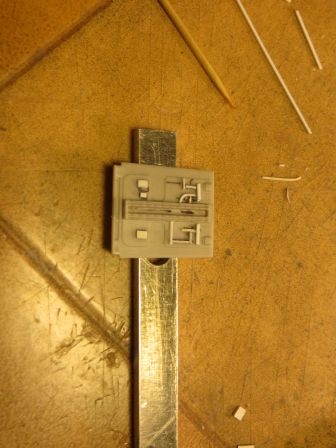 low
plastic strip on the lower clamp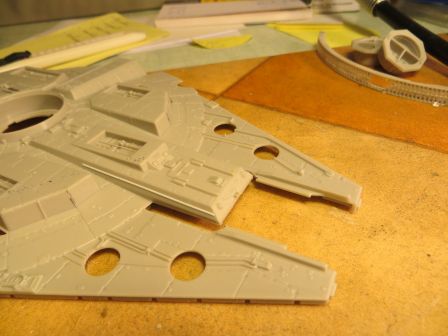 Small circle on a side corridor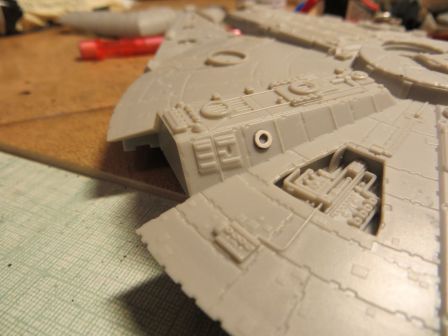 Scoop out some tiny hole (clamp...):
Adding, modifying or refining various details, in pictures :
The dish should have a top and bottom piping around the edge, which proved to be difficult to reproduce, so I simulate the reverse by removing some material where there should not be any piping.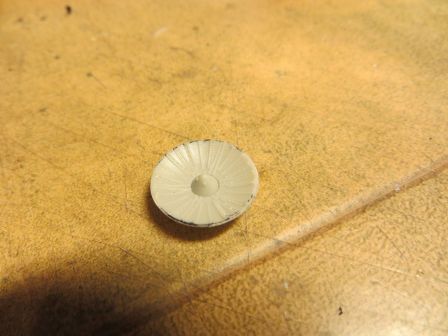 The pins of landing gear doors are refine to be able to be inserted without strength, and without offsets.