Box comparison of 2 Colonial Viper TOS (Monogram and Revell)
Par olcabour le mardi, 9 août 2011, 08:58 - Viper TOS - Revell - Lien permanent
While I was waiting for the preshanding to dry on the Moebius' Galactica, I did started another subject : the Viper from the original series. It turns out that this kit was waiting for almost 15 years (so this is the 90's reissue of Revellogram). In fact, it waited so long that a little fellow arrived to join him : the improved reissue from Revell. This will allow me to compare the two kits.
So, open theses boxes :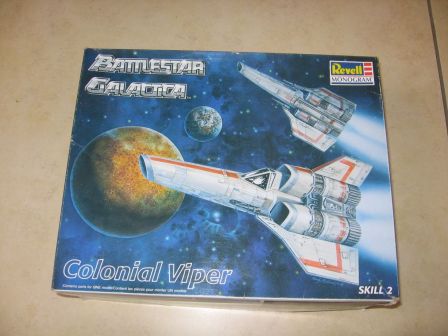 The kit of 1997 had already seen its trees disappeared, and the display used elsewhere.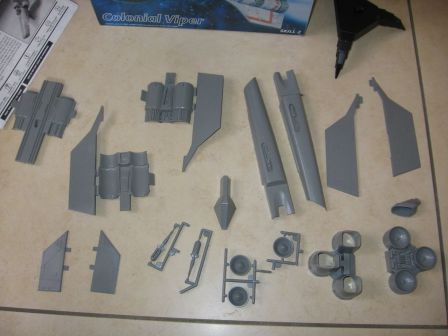 The shortcomings of this kit are well known (since the days !) : Raised and incomplete (mostmy on the fuselage) panel lines, incorrect details, erroneous nozzles, rear back too recessed, and especially ... especially ... a full canopy, so no cockpit, no pilot, did result in a gloomy subject.
Long ago, in the 90's, I did thought to scratch myself the cockpit, so I had a cast made of transparent resin canopy, which gave me a lot of troubles. I did found the result a little yellow and has therefore abandoned this approach. It was a good idea, because this thing continued to yellow in the time, here it now !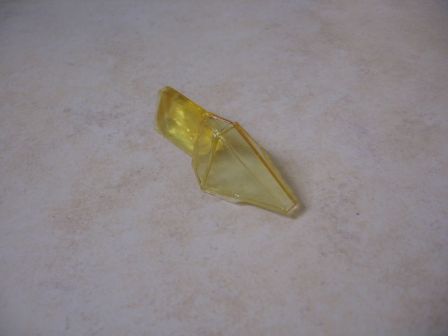 So, I purchased the upgrade sets from MMI : the cockpit (the second version, with photoetched parts, and the thermoformed canopy), and the colonial pilot. These two sets are superb, the details are thin, and parts free of bubbles.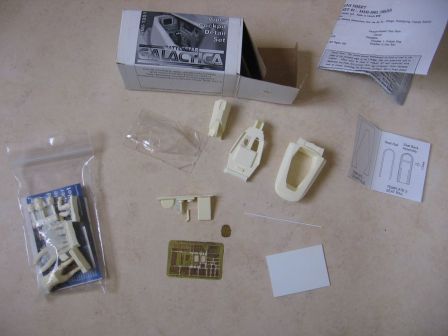 Let's go to the opening of the last edition of the Viper.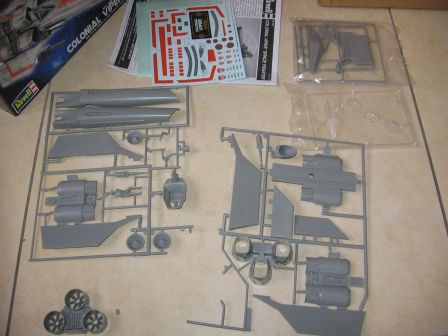 It brings substantial changes :
The decals sheet is completed.
The hole under the cabin is suppressed (one of the last traces of this missile system on the first edition of the kit)
A more aerial display stand replaces the old weird three claws thing.
The rear part is totally replaced, with details changed (but only slightly improved). The aliasing of the nozzles is much better, though still missing some details.
The reactors are now in clear parts, so you can easily add lights inside.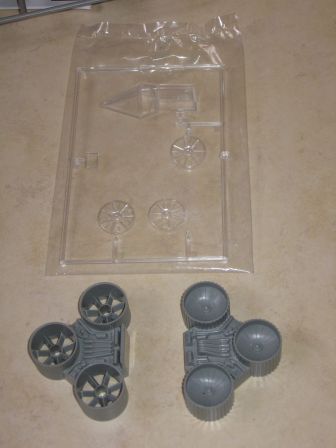 Especially this is the main defect that is corrected : the canopy has become transparent, a cockpit and a pilot are finally provided.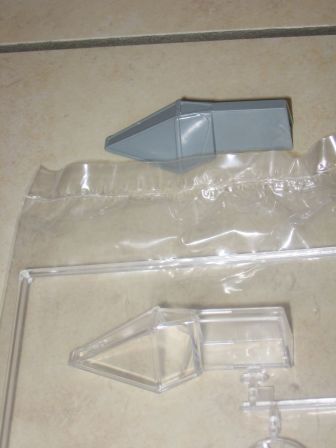 The pilot from MMI is much finer and pharaonic than the one from Revell, which is a little buffy.
Otherwise, they are the same parts with the same defects in panel lines and details.
On these kits, I will not try to be accurate, as there would be too much work for a result not really noticable in the end. The rear portion will stay as is (as it will ask too much surgery work). The main course will be the panel lines engraving, the guns, and a few details here and there.