Rag Tag Fleet Diorama - Placement and painting
Par olcabour le mercredi, 2 mars 2011, 21:27 - Rag Tag Fleet - Lien permanent
This projet, that I have in mind since a long, very long time, had now become reality (even if it is a mixed of the TOS and RDS series)
Most of the models are from Timeslip Creations :
Battlestar Galactica (TOS)
2 mining ships
rising star
prison barge
4 Olympic carriers with differents company scheme
Gemini freighter (TOS colors)
zephyr space park
One model is a full scratch : the TOS flaptop with entreprise's nacelles on top sides)
and one from Arvey Models
The Sulaco (Aliens) joins the fleet, This is an easter egg in RDS, where it becomes an heavy cargo, so it's "cannon" :). Here, I used the gashapon from Konami as is.
I also added my owned easter egg, the Wild Karrde from Star Wars, using a Wizards of the Coast miniatures.
Last, but not least, 2 tiny Vipers ejecting from their launch tube, made from paper and optic fiber (gift from Denis Troussard)

The dimensiosn of the diorama are 1m long x 50 cm width x 30 cm height, and is made of 2 wood board of 1 cm.
The placement of all these ships is determined to fill the volume with an perspective along the diagonal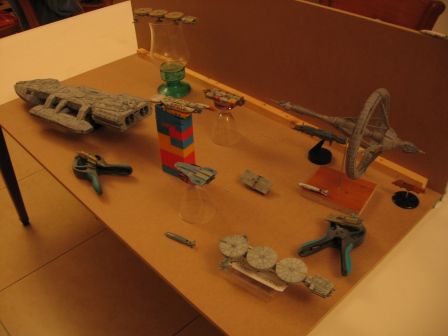 The background is made from a plastic sheet of 1m x ~75 cm width x 1 mm thick, which is maintains with double face adhesive tape. All the models get their definitive support.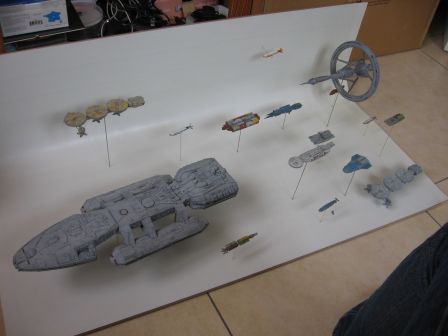 It was then quicly primed and painted in mat black with spray paints. The back was not sprayed evenly to get a some nebulaas. When dried, it was time it fill it with a nice starfield, While looking at images on google using this keyword, I found the the more interesting ones do not have a white stars, but blueish ones. So I came for a clear blue with gouache paints dilued with water, brushed along the edge of the cup.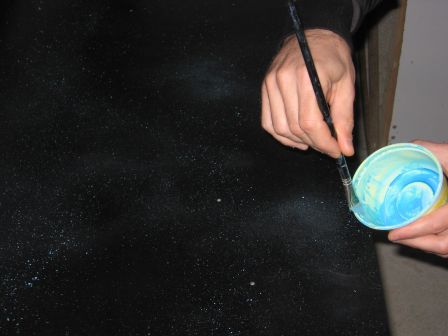 The diorama was ready just in time for the Migennes Collector 2011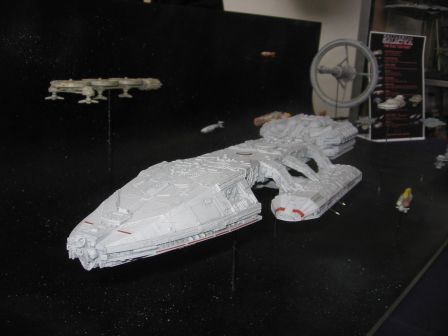 The new Galactica( from Moebius) will arrive quickly, to be interchangeable the TOS one.
Some ships are still lacking, that will come later (well I hope), with 2 Celestra (TOS and RDS versions, which are very different in details), and the botanical ship (the valley forge used in TOS)