The blue LED of the engines are permanently installed.
To prevent light leakage by the lip of the LED, a cap (again from the old ERTL lightning kit) is used.
It was a smaller cap for the upper reactor. I used a superglue tip, painted in black.
Everything is painted black, and connections are protected to avoid short circuits when everything is closed.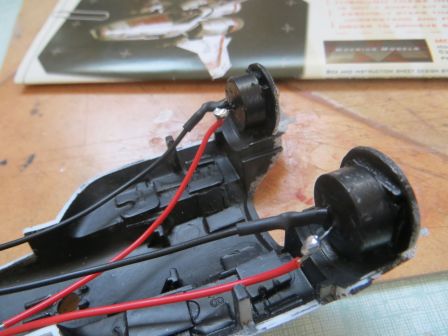 180ohms resistors are added to each blue LED to seriously reduce the intensity (I found them too dazzling as is, and I do not want the Viper to become a flashlight like I see sometimes !)
For the light source of the optical fibers going to the wing ends, I installed a LED (warm white covered with Tamiya clear red, as I did not have a red LED on hand) into the caps (lightning kit again) glued over flaps of the wings. The optical fibers are inserted into the tube. So, there is one led by wing in the corresponding air instake. I hesitated to install only one LED in the center of the vessel, but it became a little too sporty, and the empty spaces in the air intakes were welcoming.