Cylon Raider NG - Painting
Par olcabour le lundi, 18 novembre 2013, 23:49 - Cylon Raider NG - Lien permanent
After having received a coat of primer, I tried to make the foundry raw look. Searching on military model website, it seems that the simplest method is to brush a mix putty and acetone on the model.
As it was a first time for me, I think I did it a little too light.
A new thin layer of primer
Everything is covered with gloss black, which is the base color for Alclad metallic paints.
I started by completely painted it with Alclad Stainless Steel, which is a rather dull alclad, with the idea of completing the raw look.
I realize clearer panel in Alclad Duraluinium.
And then, surprise, the Stainless steel did not accept masking tape!
So I covered it again with quick and thin coat of Alclad Steel, that I know to be stronger, as I use it since a long time.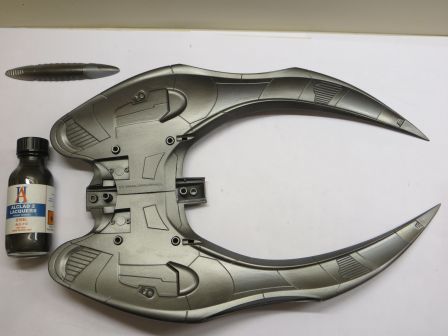 Some slightly dark panels with a mix of jet exhaust + magnesium
Dark panels, in jet exhaust
Some panel's corners are post-shaded with Aluminium, to break the patchwork effect and give more texture to the whole model
Some pale burnt metal panel to give some color to this beast
It is already rather nice like that, even if the fondry raw effect does not see too much.