Space 1999 - Infernal machine Tanks
Par olcabour le dimanche, 19 mai 2013, 10:58 - Tanks - Lien permanent
These are three small models that I had not had the opportunity to address for my previous Space:1999 exhibition (Migennes Collector 2012).
As it will be exibited again (Geekopolis - Paris / may 2013), this was the opportunity to look into them.
These three tanks appears in only one episode "The infernal machine", where are destroyed rather quickly !
These resin kits are produced by James Small, and are in scale with Product Enterprise, Airfix, and Warp Eagles. They each require a supplementary kit: the chieftain tank Airfix 1/72 for axles, wheels and tracks. For note, the studio models were all based on three Tamiya radio-control kit of this AFV in 1/25th scale.
The scale is usually given for 1/72 in line with Product Enterprise Eagles, Warp and Airfix. As for the latter, the scale is an endless debate, so I will say that navigates between 1/72 and HO 1/100). In my other dioramas, I placed the Alpha moonbase kit's characters (~1/100), and they are going very well next PE eagles..
So, what can we found in the zip bags :
Model E

It has a cockpit inspired by the eagle's nosecone. From my point of view, this is the coolest of the 3.
Model F
Product Enterprise had produced this model in a set including small jeep, eagle laboratory and boosters.
Model H

What is the accuracy to the original models ? Overall, this is pretty good. There are a few shortcuts with details, but it does the trick.
Curiously, the tank model E (with the Eagle-like nosecone), some raised panels would normally only be done with decals or paints. Anyway, I decided to keep them.
Highlighted with pink stabilo: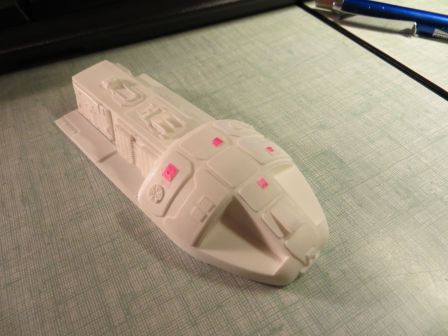 Similarly, on the tank model H topside, near the bubble cockpit, a detail has nothing to do there!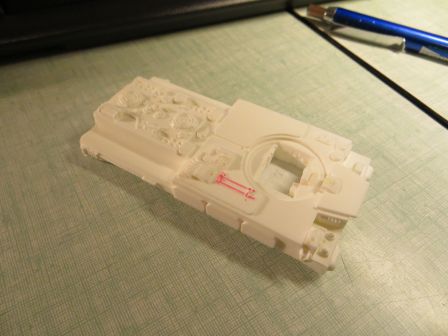 The quality of the molding is average, there are lots of bubbles and a lot of cleaning work to do : flash, warp...
On, the other side, this white resin is easy to work with.