Sovereign Replicas - Y-Wing Clone Wars
Par olcabour le vendredi, 15 février 2013, 23:49 - Y-Wing Clone Wars - Lien permanent
Bought on StarshipModeler 2 or 3 years ago, a first and quick opening of the box made me think that this kit Sovereign Replicas resin is a quiet walk in the park.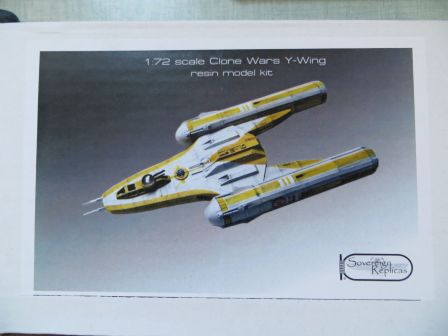 Having decided to tackle it, a more detailed analysis was required. At first glance, the overall proportions seem correct. As it is a numerical model, cartoon style, I'm not going to focus on this point. However, the cockpit seemed very small (unless clones are legless cripple). The finished kit appears to be in the 23.5cm range, and resources give a length of 23.04 m for the full size. Well, finally it's a 1/100th scale kit...
The casting quality is not fantastic. There are a lot of bubbles and micro bubbles, mainly focused on the cabin. Micro bubbles will multiplied elsewhere during sanding ... All the nose of the ship suffers large bubbles hidden just beneath the surface, appearing once the cleaning of the part had begun.
The rest (in no specific order): - Raised details on the rear of the cabin seem a bit thick. - D2's head is 1/72 (So, unlike the kit !) - The panel lines are not symmetrical, not clean, and not enough pronounced. - The canopy is supplied without any transparent windows, and the frames are rather thick - The gunner turret gunner (the half-sphere on the rear of the cockpit, in the style of bombers of World War II) is cast in transparent resin but solid. It will therefore require a thermoformed replacement part. - The front guns are not well cast, so they will be redone in scratch, and those of the turret are molded as a single face (one side casting only) - No pilot or gunner are provided - No landing gear
Number of parts18 Decals 2 Sorry, I do not have "out of the box" pictures this time