Main Mission - Base color and furnitures
Par olcabour le jeudi, 1 mars 2012, 23:28 - Main mission - Lien permanent
The same off white mixture, applied on the launchpad, is airbrushed in thin layers on Main Mission Tower.
The mixture consists of Tamiya matt white, broken by few drops of Sky Grey XF-19, and completed a few drops of Klir to strengthen it. It is also protected with a thin surface layer of Tamya white spray primer.
The paneling is made with the same color and same stencils as on the Launchpad.
The inner rooms mask is removed.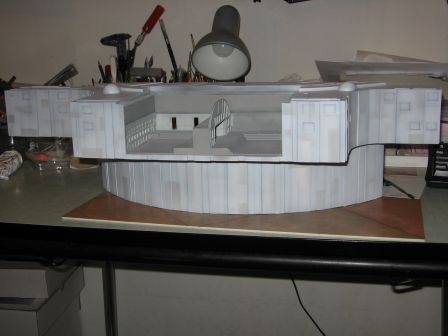 The furniture gets its basic color:
- The seats in bright white, to simulate PVC.
- Koenig's office in metallic gray
- Control station destop in dark gray
- The spiral staircase and mezzanine floor in sky gray
- The railing of the mezzanine and the communication terminal in the same color as the walls

Having double copies of all the furniture, they will be used in Koenig's office of Koenig and in the hangar.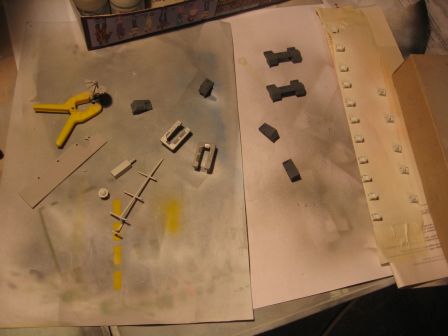 Note, the staircase should not be spiral, but a mix of straight staircase and ladder! Look at this screenshot from the Catacomb website), steps are grouped in two!
It should not be easy for actors to climb up there!
To improve the stability of this portion of Main Tower Mission, I will place it on a board of medium, which will be then decorated with a lunar surface like the launchpad.