Main Mission - Starting the tower
Par olcabour le mercredi, 8 février 2012, 16:02 - Main mission - Lien permanent
After having left the subject on the side to settle the issue, I actually decided to insert this little dio in a portion of the Mission Main Tower, the central and raised building of Alpha moonbase.
http://www.space1999.net/~catacombs/cybermuseum/MATN/matn1007.html http://www.space1999.net/catacombs/main/images/space/spmba4.jpg
Various blueprints exist (found during 15 years of surfing on the net) but do not agree with each other, and at the scale of the dio, the width of the building varies from 60 to 90 cm long. With 65 cm cardboard and foam board sheets on hand, spare parts dating from the construction of the DeathStar turbolaser turret (see here or SFFM #5), I went with this length which makes it easy for me ! Only a slice of ~20 cm wide will be realized.
The shapes are drawn on the cardboard sheet (2mm thick), then cut. The same diagram is then reproduced a second cardboard and two foamboard sheets (3mm) with the help of the first as a template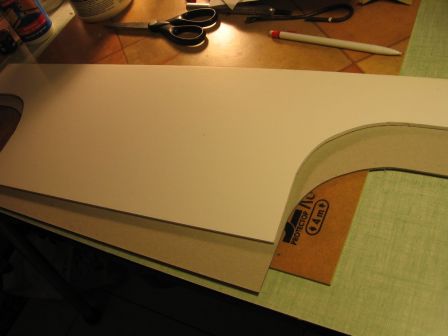 The foam board is glued to the cardboard for proper rigidity of the whole. This will be later covered with 0.5mm thick plastic card.