Stargazer Viper - First Look
Par olcabour le jeudi, 18 août 2011, 22:32 - Viper TOS - Stargazer - Lien permanent
In parallel of the assembly of the Revell Viper mk1, I also started a 1/72 Stargazer resin version of the same subject, bought recently on Starship Modeler.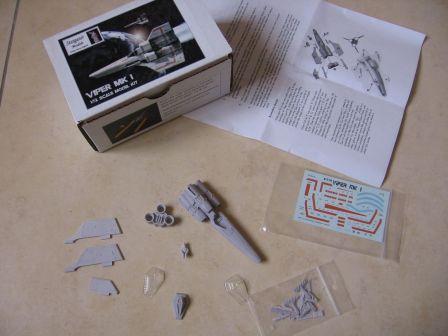 Quick review of this small kit before starting :
Cast in gray resin of poor quality but fortunately odorless.
The wings seem a bit oversize
The level of detail is low, the details are bulbous, and the few panel lines on the fuselage are incorrect (like freehand drawn) or disappear in the mass
The frame of the thermoformed canopy seem rather thick
The pilot is ugly too. It looks more like an Invader, in its crumpled suit and wearing a motorcycle helmet, than a colonial pilot ! I cannot imagine the result if a Cylon was included in the kit: David Vincent in a cosmonaut's chrome spacesuit with a red LED in the middle of the forehead...
The pros :
The landing gear are provided
The decal sheet is rather well-suplied, including interesting "Beware of Blast", "Rescue" or "Danger" marking, but out of scope here.
Thermoformed canopy is provided in double
In short, you'll understand that this kit is not really exciting, and its best pro is to be the only one to exist at this scale. So, this little thing (just 10/12 cm long) will require almost as much work as its Revell big brothers !
The assembly will heavily follow my 2 Revell Vipers notes and building steps, so a prior tour here is recommmended.